The most compelling virtue of concrete is its near limitless versatility. It's hardness and strength give it a sense of timelessness, and its simple mass can be elegant and quite beautiful. Concrete's liquid working state allow it to be cast into a wide range of shapes and forms, while also allowing the incorporation of a wide range of details into its designs.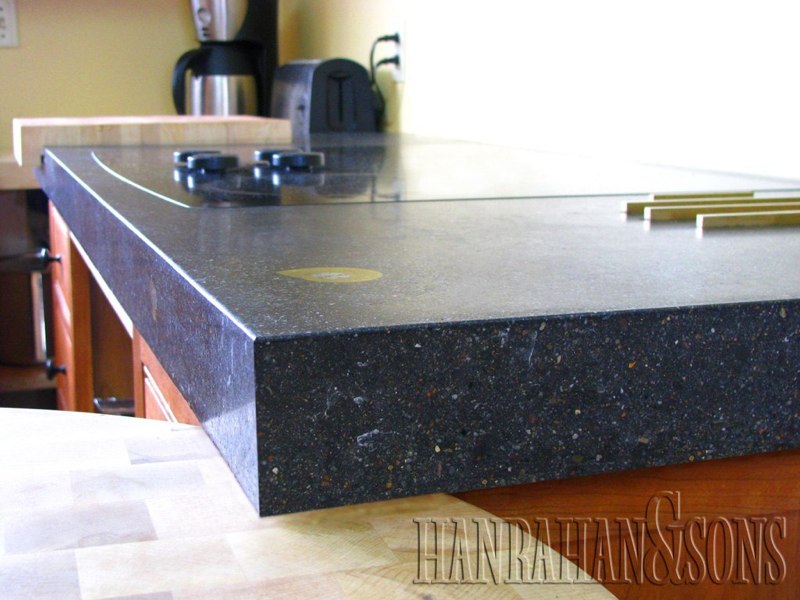 Concrete surfaces are often described as "active," because of their wide range of possible colours and surface textures. In addition, concrete complements and works well with most other materials. However, due to its active surface, it tends to look it's very best when incorporated next to more neutral colours and textures. For this reason, integrated elements such as end grain butcher blocks, and inlaid marble baking slabs are elegant, natural additions to concrete.
A concrete countertop can be kept in a nearly pristine condition with applied sealers and routine maintenance. It is a material that can be used to create a truly custom countertop, that will complement your new or existing kitchen, and be enjoyed for years to come. Curved shapes, integral draining boards, and inlays give concrete a sense of utility, sophistication, and uniqueness, which would be nearly impossible to achieve with traditional materials.
Whether concrete and it's intrinsic qualities are for you or not, is very much a personal question. To some, the qualities of concrete, and the work involved to try and keep it looking untouched, is simply more effort than they are willing to invest. Realistically, anyone concerned with every little stain or scratch will most likely not be happy with concrete countertops. To others, the eventual stains and marking are not seen as blemishes, but instead are considered part of the rich patina that expresses the warmth of the material, and ultimately, add to the surface—gradually blending in and becoming part of it's history.
Compared to more traditional materials, the cost of concrete with it's ability to incorporate unique features such as curves, inlays and textures has a relatively modest price, starting at approximately $85 to $90/square foot. However this cost will vary with the amount of detail going into each form.